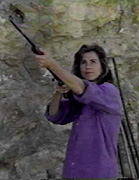 Mary is the daughter of Ann Bach; and the triplet sister of Mark and Marty Bach. She holds the noble rank of Marquessa. Mary served 5 terms in the Infantry and REACT Branches of the Imperial Marines. She was reactivated to service and served behind enemy lines on Regina during the Sixth Frontier War. She is famous on Regina as the "woman in the Pikhan Battle Dress" during that campaign. She was awarded 2 MCUF's for her military service and retired at the rank of Gunnery Sergeant.

Mary is also the recipient of the "Supreme and Ultimate Medal of Thanks" from the Pikhan government and The Emperor's Medal from the Imperial government for her services as a civilian.

Mary continues the Bach tradition of spectacular but survivable injuries. She has made the acquaintance of a Barlow, a Krel and the Birabatens, so she's hard to impress.

Although well known to people on Regina, she has been absent from Regina for over a year.