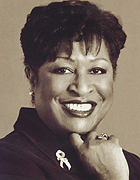 Doctor Jorgenson served six terms in the Medical Branch of the Imperial Navy. She is a graduate of the Naval Academy and the University of Regina Medical School. She received two purple hearts, 1 MCUF, 1 MCG and 1 SEH awards. Her dress uniform now bears a SAG Eagle. Her final rank was Captain.

She married Reid Darcy on Holiday 1116.

She is a member of the Heritage and Grenadier Clubs on Regina. She owns part interest in the Demon Slayers bar on Regina.

She has been very active in the charitable organization, "Doctors without Borders". She is currently board certified in Trauma and has staff privileges at Regina Trauma.

While on Regina, she occupies herself by running a very "exclusive" medical clinic on level 8. You won't find the address of the NQA Clinic in the local yellow pages; you have to have streetwise to learn it's location. Anders treats anyone who shows up at the door, and the only questions that are asked relate to the "mechanism of injury" rather than how it actually happened. She charges 1,000 cr a point for the very professional medical assistance (10 times the going rate at the hospital), but there are no awkward conversations with the police. Somehow even the starport cameras in the hallway outside are set in a loop. Regina Security now knows about the clinic, but probably finds it a potentially "useful" place to leave running. Anders uses the profits from this clinic to fund her charitable medical work.

No one has welshed on payment for services rendered yet or caused any kind of disturbance at the clinic, given the fact that Anders' husband, Reid Darcy, works the clinic door. He is a very scary man - former REACT, an empathetic psionic, has "dead eyes". On the one hand, he's working off bad karma from his former professional life, one person at a time by helping with the clinic; on the other hand - he'd wouldn't lose sleep if he had to kill one more person.

It has been said that you may find Anders in any current war zone, in the medical tent of the refugee camp.