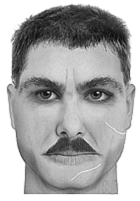 Age: 47
Height: 6' Weight: 200 lbs
Eyes: Blue Hair: Black
6 terms Imperial Marine Corps. commandos Discharged at the rank of Sergeant Major.
MCUF x2 MCG x2 CSR x11 PH x2 Pican
Supreme and Ultimate Medal of Thanks
Expert ratings in Combat Rifleman, Recon. Qualifications in Zero G combat and Demolitions. Battle Dress, Grenadier. Wilderness Survival and Instruction.
Viktor's life started out pretty much on a sad note. At the age of 10 his father was killed by pirates. That same year he, his mother and sister were captured by slavers when the small liner they were traveling on was raided. A few days later, while trying to escape, Viktor witnessed his sister and mother's deaths. Since then Viktor has been slightly obsessed with his own brand of justice.
During his years with the Imperial marines, Viktor quickly rose through the ranks of the NCO's. After 6 terms (5 of which were spent in the commandos), he retired to Regina. There he became well known as a serious trouble shooter and mercenary. Although he was often seen throwing pizza parties for the street kids near his residence on
old port
. Viktor has never been afraid to tackle a problem head on. This won him the respect of those he served with as well as his foes. Those who know Viktor personally have often referred to him as a bullet magnet. Although this was a bit misleading since he seemed to attract a higher percentage of high explosive rather than bullets.
Viktor has added a few new family members to his life in recent years. Starting with his adopted daughter Katrina. Katrina was rescued by Viktor during a raid on a slaver camp he encountered while on a contract. More recently Viktor married the Countess Katarina Dragomilov. Her previous husband having been killed a year or so earlier by an assassin. Shortly there after Viktor moved to
Rhylanor
. Where he was appointed a Generalship in the Rhylanor Defense Forces. The year before his appointment he was Knighted by the Archduke of
Deneb
. Since then Viktor has been elevated every year that his name has appeared on the Emperor's List. Many attribute this more to his wife's ambition more than his own. It is rumored that even the Emperor himself has a high regard for Viktor.
On 329-1120 Viktor introduced his son and heir Vasilli Viktorovitch Androchev to the Imperial court. It's not known who is the prouder parent, Viktor or Katarina.
Viktor was pulled from inactive reserve status and promoted to Major General shortly before his return to Regina to assume command of the 4417th Imperial Marine Division. During his stopover on Regina he became embroiled in the power struggle that was tearing at the seams of Regina itself. Having been temporarily detached from his command assignment by
Field Marshal John "Tiger" Collingwood
. Viktor continued to stay in contact with his marine division. Viktor often felt out of his element in political matters and to this day still does. Katarina is the political animal in Viktor's family. She has provided a great deal of insight to Viktor during these times.
On 100-1122 Viktor recieved orders from
Grand Admiral William Grey
appointing him as Military Governor of Regina. A job he did not seek... Didn't really want. But never-the-less pursued with the same determination he is infamous for.
A couple of weeks later Viktor left Regina for Jewell. During his visit to Jewell he was again promoted and given command of the
6th Imperial Marine Corps
. Rumor has it that Lt. Gen. Viktor Androchev is Admiral Grey's "fair haired boy". A strange rumor since Viktor not fair haired. Viktor is currently enroute to his new command post. Supposedly located somewhere in the Gvurrdon sector.
See the Barry Boone version of his life at: Regina's Champion.
Viktor returned from Gvurrdon a changed man. His military career was definately slowing down and he retired a second time from the Imperial Marines. Viktor has taken this peaceful time in his life to make a trip to Capitol. To spend time with his wife and son. And to advocate for some military aid to the Marches from the Emperor.