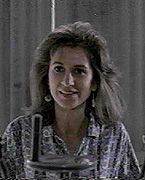 Marcy served five terms in the Support Branch of the Imperial Marines and was twice re-activated for service during Frontier Wars. She received: 4 PH, 2 MCUF, 1 MCG and 2 SEH's and retired for the third time at the rank of Major General. She is the holder of several Marine Service Competition Records and Civilian Sector Records for shotgun.
Outside of the military, Marcy cut a wide and adventurous swath through the Marches for a number of years. Local legend has it that Marcy is impossible to kill, having had 4 legs regrown and survived a tank round to the chest
Marcy eventually married Jonathan Burke (who was to the pistol what Marcy was to the shotgun). Peaceful domesticity ensued, until the birth of Elizabeth Regina Bach Burke on 10-1116. Even as a baby, Elizabeth's psionic talents made life interesting for her parents. On the day of the christening, not only did a large number of friends arrive bearing gifts, the Sengi came too. They announced that Elizabeth was the "Aeisheia" and mildly put, they swore a blood oath to defend her. They also indicated that they could help with her training, particularly in dealing with the psionic talents. Marcy and Jonathan were persuaded to move to their home planet, Birabates, to raise Elizabeth.
Eventually, Marcy and Jonathan returned to the Marches in time to meet the Imperial family, who were touring the area. During the tour, Jonathan was killed as part of a Sengi power struggle, although he took his assassin with him. Marcy left Elizabeth in the care of the Empress and returned to Birabates to bury Jonathan and to settle with the assassin's widow, with a duel - Sengi style. Marcy lost, but survived. Marcy considered this a matter of honour which was settled by the duel, and during recuperation, she become fast friends with the "green" widow (they have a lot in common). She then returned to Court to collect Elizabeth. She is currently residing on Lanth.