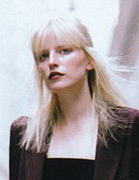 AKA Yvette Smith

Height 5'10" Weight 135 Hair Blond, Eyes Black
Imperial Naval Academy 1st in class
4 Terms Imperial Navy (Flight)
SEH, 5 CCR, 11 CSR, 3 PH
Medical Discharge
Distinguishing features: Vertical scar on right cheek

The Countess is travelling as Yvette Smith in order to avoid her family and an arranged marriage to a man she considers a worthless fop. She despises the nobility as being made up mostly of worthless parasites, and prefers to affect the guise of an average citizen (though her speech, manners and taste in clothes mark her as having some breeding).

Yvette is rated as an expert pilot, with navigation and engineering ratings. She has attended command college and has extensive experience with both ship and fleet tactics. Her main hobby is fencing and she routinely wears a smallsword (Colischmarche) which she has occasionally used in hand to hand combat.

She has recently relocated to the Spinward Marches, both to avoid her family and because of its reputation as a rough and tumble area of space. She is reluctant to speak about herself, is naturally quiet and withdrawn, but frequently adopts the posture of a harsh mistess when dealing with strangers or crew.