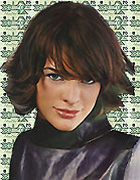 Carrington Jenessa Degrandmont
The youngest of three children (and the only girl). Her mother died giving birth. In order to insure an inheritance, her father named her after a maternal uncle.
After laboring through her childhood with this very male name, as well as a father and brothers (on a lesser scale), who schemed and stole, on her 13th birthday she asserted her independence and let it be known that would only answer to "Jenessa".
While spoiled and pampered by her father and older brothers, she never did what was expected of her. People who knew the family were gratified when she seemingly chose to bypass the family business of thieving and instead went to university and obtained her Fine Arts degree.
Very popular all her life, after obtaining her degree she became a jeweler. Much in demand for her skills as an artisan, she creates works of art for people of all levels of society.
Also popular on a social level the 5'4" brown haired, blue eyed 34 year old doesn't seem to stay in one place very long.